What are the building permits required in Bangalore for residential houses?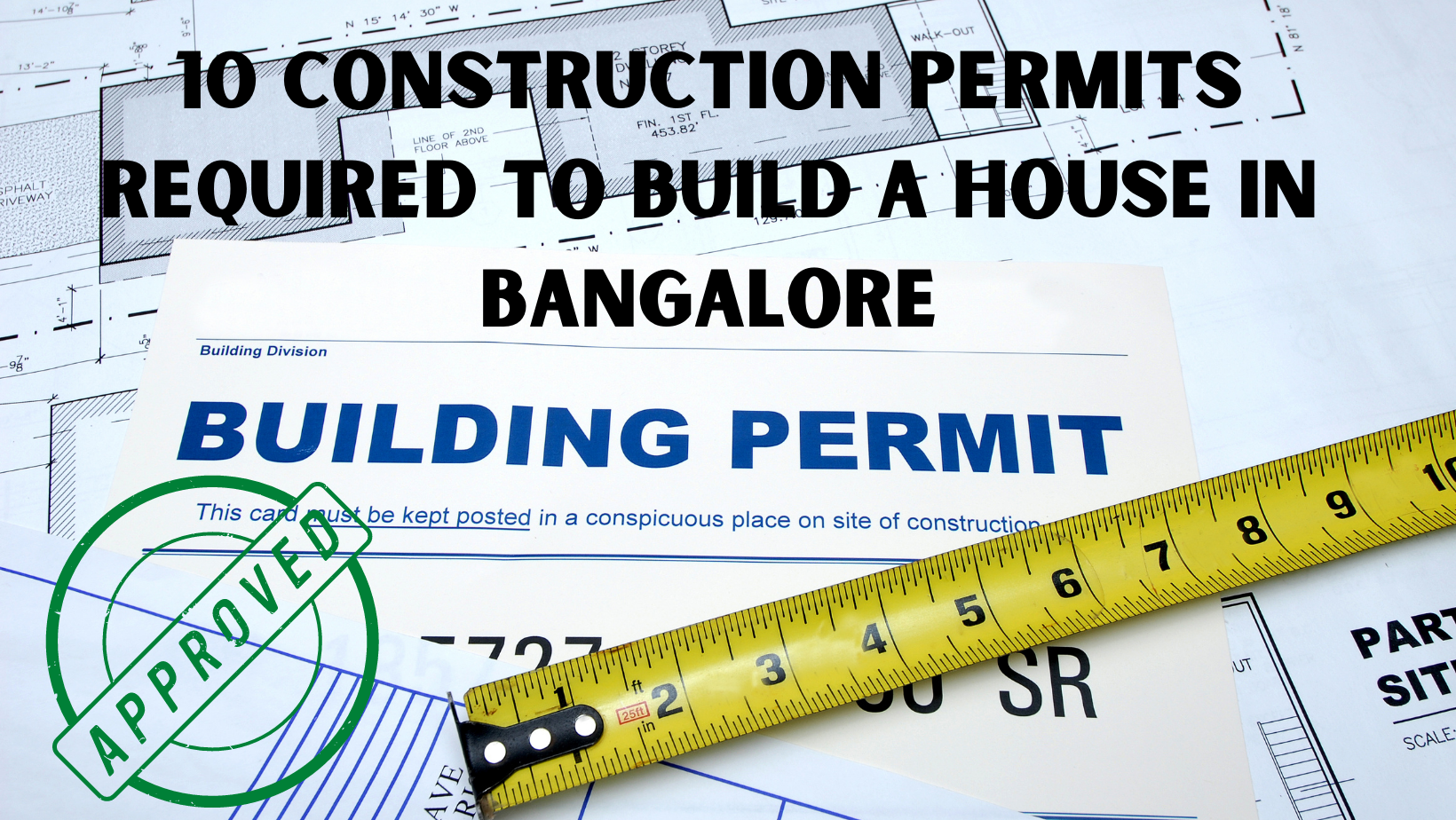 The countless building permits in India are a major deterrent for owners aspiring to construct their dream house. Multiple approvals from different departments take at least three to six months before you finally lay the foundation stone for your house.
Some people are unaware of the building permits required. It makes the entire process even more painful. Of course, you might have hired a construction contractor for your house. You need to have a basic understanding of all the housing permits required in Bangalore.
Constructions without permits are deemed illegal occupancy, and they will be invalidated. Hence, it is important to comply with local municipal construction rules and regulations. Make sure you have done all documentation upfront. Seek all permits on time.
Scroll down to know what building permits are required to construct a residential house in Bangalore .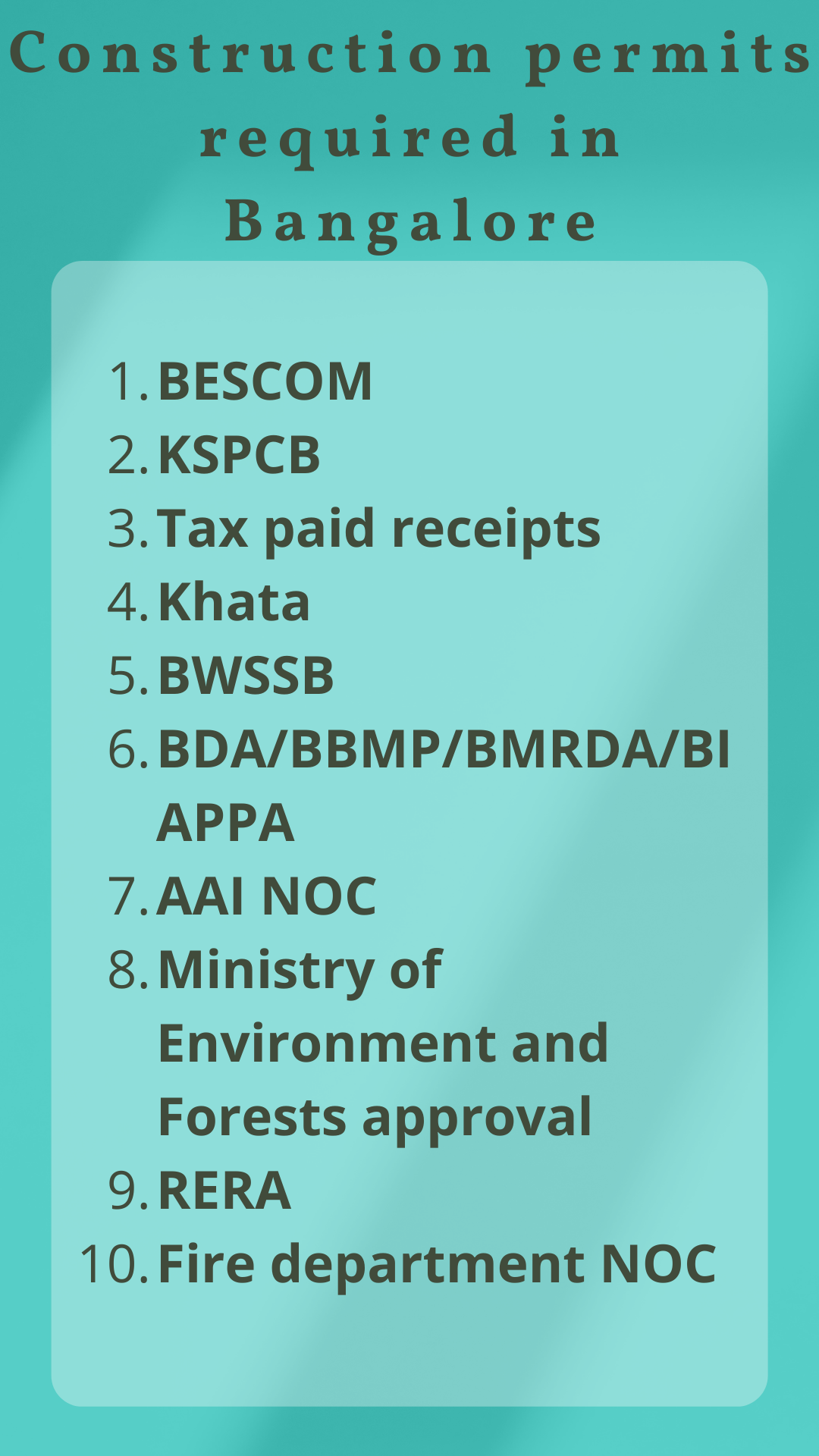 BESCOM approval

BESCOM (Bangalore Electricity supply company) is the central authority to approve electricity connections to residential houses and other constructions in Bangalore. To get an approved electricity connection to your home, follow the below steps.
You have to get the BESCOM Form A and pay 50/- rs as a registration fee and furnish all the required documents.

A licensed electrical contractor from BESCOM will inspect and verify all your documents.

After verifying documents, an electrical contractor visits your house site for an initial estimate.

Once the construction is finished, you have to pay an infrastructure fee and deposit some money for sanctioned electric supply.
KSPCB approval
Approval from Karnataka State Pollution Control Board is mandatory to assure that your building is not breaching any local pollution control regulations.
You need to furnish all the required documents for KSPCB approval. A pollution control authority will verify the documents and inspect the site before approving your construction.
Tax paid receipts
To obtain approvals from the local municipality, you must have paid all the taxes before starting your construction. If you have paid all the taxes diligently, furnish all the documents and tax return documents to the local authority for verification and approval.
They assess initial construction costs and suggest a range of materials that suits your needs. Their connections and network also assist you in obtaining discounts and availing of other offers.
Khata
Khata certification is extremely important for your residential house. Khata certificate in Karnataka is the primary legal document used for property filing and tax evaluation. Without Khata certification, you will face troubles in obtaining other approvals.
Khata certification is central to bank loans, electricity connections, building approvals, water connections, and layout approvals. In addition, it identifies and mentions the names of the owners of the property for future tax filings.
The details on Khata certification include owner name, house address, property size, location details, personal identity certificates, and tax assessment.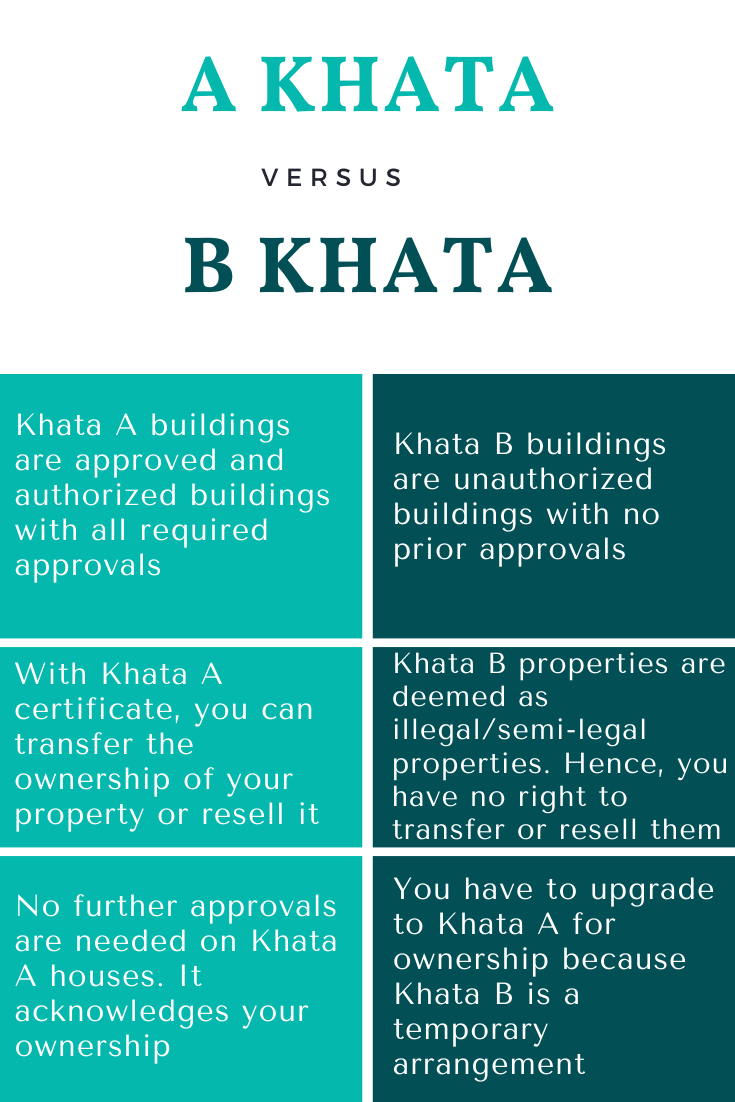 BWSSB
Bangalore water supply and sewerage board is the whole and sole authorizing body for water supply to houses and other constructions. The process of getting water supply to your home is similar to applying for electricity supply.
Visit your nearest BWSSB service station
Ask for a new water connection form. Fill out the form and pay a registration fee of 30/- rupees.
You may need to furnish additional documents if your construction is more than three floors.
After furnishing all the documents, BWSSB will give you an estimated amount based on your construction area.
BDA/BBMP/BMRDA/BIAPPA
BDA/BBMP/BMRDA/BIAPPA are the sole authorized municipal bodies responsible for approving building plans, infrastructure development, and construction planning. Therefore, approval from these regulatory bodies is essential before starting your house construction in Bangalore.
AAI no objection certificate
Height clearance is a central government's statutory requirement. Hence, obtaining a no-objection certificate from the Airport Authority of India is essential. This ensures that buildings are constructed within safe heights and not obstruct the aircraft commute systems.
Obtaining a no-objection certificate for height clearance from AAI is a simple procedure. It is a paperless process. You need to approach the concerned authority who is responsible for approving constructions. It is a completely digitized process, and you will receive all the updates, NOC, and other details through email.
Ministry of environment and forests approval
Bangalore is a rapidly expanding metro city. It is already overpopulated with a lot of unplanned constructions. Bangalore state government has made it mandatory to get environmental clearances from the environment and forest ministry. It is to demotivate and avoid unplanned constructions and expansion of the city into forests.
To get environment approvals, you should furnish details like mode of energy, the quantity of water usage, materials used in the construction, and sanitation facilities.
RERA
RERA approval is essential to avoid any legal complications in the future. Real Estate Regulations Act approval ensures transparency in transactions and trades in the future. It reduces the risk of bankruptcy and deals with the rights of the house owner and buyer (in future).
Fire department
Approvals from fire department are mandatory for construction permits. Department of Fire and Emergency services of Karnataka inspect the site, layout plan, location, and other documents before giving your construction a nod. You have to submit documents like site plan, floor plan, schematic plan of fire fighting and detecting system, section, and elevation along with an application form for approval.
Conclusion
Building a house in Bangalore all by yourself is a challenging task. Do you intend to build a house from scratch? Are you struggling to seek permissions from Bangalore Development Authority and other municipal bodies?
Well, this article will help you learn how to go about it. However, remember that you cannot skip any step or approval, which may cause longterm repercussions.
FAQ's
How to get BBMP plan approval for house construction in Bangalore?

Here is the step by step process for BBMP house construction approval in Bangalore.
File your application for house construction approval online.
You should pay a processing fee that is mentioned on the site.
Submit all the required documents including layout plans.
Your construction layout and house documents will be verified.
A site engineer will visit your construction site for inspection.
Upon all verifications, your house construction plan will be approved by BBMP.
What is the difference between A khata and B khata houses in Bangalore?
The major difference between A khata and B khata houses is the building approvals. While Khata A houses are constructed only after prior approvals, Khata B houses are referred to as 'unauthorised' constructions due to inadequate approvals.
#Experienced Architects #Design #2D-Design #3D-Design #Construction Company #Housing-Factory #Build-Home #Residential #Interiors #Commercial #Bangalore #BBMP #BDA #BMRDA #Panchayat #STRR #Municipality-Permission #A-Katha #B-Katha #Plan-Approval #Building-License #Hassle-Free #Contractor #Bescom #temporary electric connection #permanent Bescom Electrical connection
Hire the best construction service