Stone Masonry and its types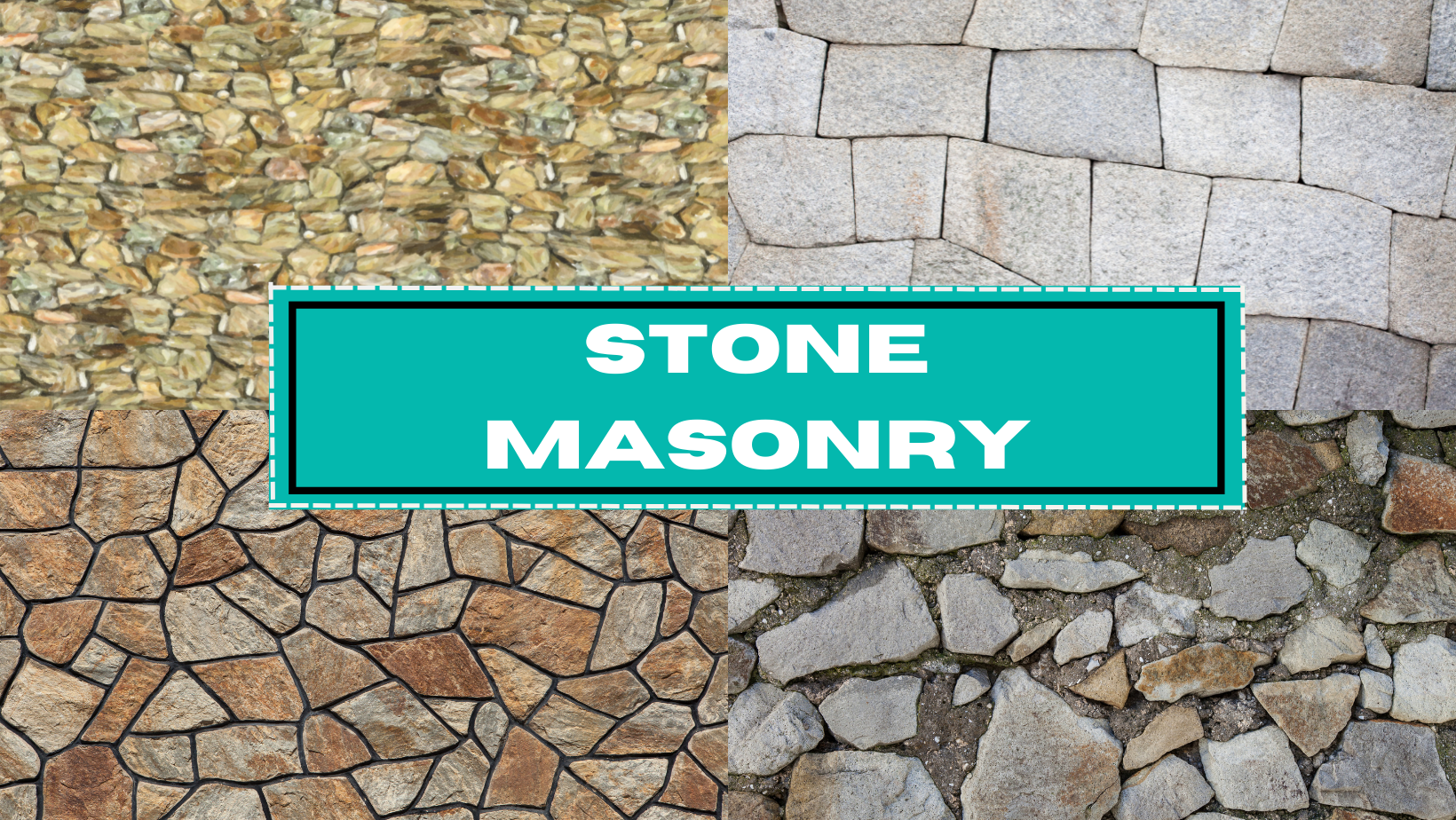 Introduction
When it comes to the construction of buildings and structures, stone masonry is considered one of the strongest and oldest forms of construction. There are several reasons why stone masonry is deemed the most efficient construction technique.
The first reason is its existence since time immemorial. It can be attributed to the fact that different types of stone are available for use in building purposes. This blog explains the concept and types of stone masonry in detail.
The construction of a building using raw materials like concrete blocks, bricks, or stone is called Masonry. Masonry is used to construct walls, foundations, and columns. Mortar is used as a binding material to hold the building blocks.
What is stone masonry?
The traditional construction process of stone and mortar buildings is known as stone masonry. This construction technique is used for building walls, arches, foundations, floors, and columns, etc. Mortar is the binding material made of sand, cement, and water.
Types of Stone Masonry
Stonemasonry is classified into two major categories. They are:
Rubble masonry
Ashlar masonry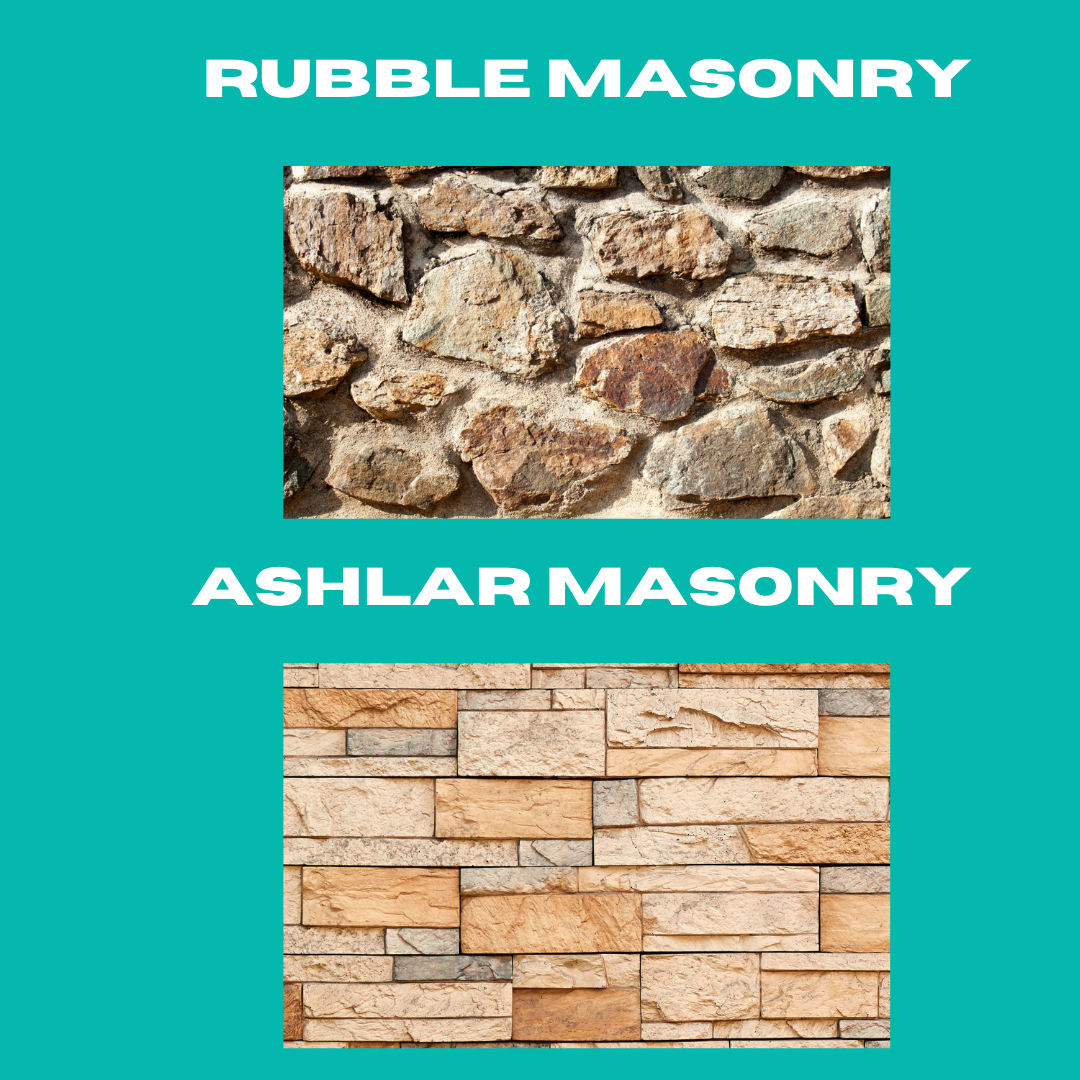 Rubble masonry

Rubble masonry is a stone masonry technique that uses undressed or non-uniformly shaped stones. The thickness and shape of stones are not uniform in rubble masonry. However, the strength and uniformity of rubble masonry depends on:
Quality of the mortar used.
Efficient filling of mortar between the building blocks
Rubble masonry is, in turn, categorized into:
Coursed rubble masonry

In coursed rubble masonry, stones are stacked in layers to construct a wall or column. The layers are called courses in this process. The stones used in coursed rubble masonry are non-uniform in size and shape.

This masonry technique was commonly used in ancient times in building dams, bridges, etc. Houses in hilly regions still use coursed rubble masonry technique since stones are abundantly available there.

Uncoursed rubble masonry

The stones used in uncoursed rubble masonry vary in shape and size. Unlike in coursed rubble masonry method, the courses (layers) are not uniformly arranged. Instead, the stones are arranged in a jig-jag manner.

Initially, larger stones are stacked up to build a wall, and later, the gaps are filled with smaller stones. Uncoursed rubble masonry is further divided into two categories:

Random uncoursed rubble masonry

In this method, pointed or weaker corners of the stone are removed with a hammer. Then, the remaining gaps are filled with other stones that perfectly fill the gap to increase the strength of the construction.

Square uncoursed rubble masonry

Random undressed stones are carved into square shape stones in this method. The roughly dressed stones are used to build walls, columns, foundations, etc.

Dry rubble masonry

The process of dry rubble masonry is similar to coursed rubble masonry technique. However, mortar or any kind of binding material is not used in this process.

It uses smaller stones to fill the gaps in between the larger stones. The dry rubble masonry method is primarily used to construct dams or decorative elements in residential homes.

Polygonal masonry

In this process, the stones are carved into irregular polygon shapes. Polygon-shaped stones avoid gaps altogether or reduce them for a stronger structure. Polygonal masonry was a popularly used construction technique in ancient times for dams, bridges, etc.

Flint masonry

Flints are a Silica material used to fill the gaps in stone masonry. They look like sand and are irregular in shape. Flints fill in very small gaps as they are hard enough to support and keep the wall in position.
Ashlar masonry
Ashlar masonry uses finely dressed stones that are uniform in dimensions and have fine joints. In this method, the stones are directly brought from the quarry to ensure all stones are similar in size and shape. Ashlar masonry is categorized into:
Ashlar fine masonry

Ashlar fine masonry is expensive, but it is used to build robust structures. In Ashlar fine masonry, the stones are cut into uniform shapes, rectangular, to be precise. Hence, they provide perfect and fine joints.

Ashlar block in course

Ashlar block in course masonry is a combination of rubble and ashlar masonry. In this process, the stones are finely dressed for perfect joints. The stones are then arranged in courses (layers) like rubble masonry. It ensures superior strength and uniformity without any gaps.

Ashlar chamfered masonry

In ashlar chamfered masonry, the building blocks or stones are chamfered at a 45 degrees angle to a depth of 25mm at the faces. The vertical joints remain intact. Ashlar chamfered masonry gives the structures an appealing look.

Ashlar rough tooled masonry/b>

In this process, the stones are finely chiseled on the sides, whereas the stone faces are roughly dressed. This is done to avoid rough or non-uniform vertical joints or gaps between the structure.

Rock or quarry faced masonry

Rock or quarry-faced masonry keeps the face of the stones intact to create a visually pleasing appeal. But, the perimeters of the stones are 25mm wide chiseled for superior strength and uniformity of the stones.
Conclusion
Stonemasonry constructed structures have a heavyweight, and the ability to hold the structure in position is superior. Although concrete constructions have taken over these conventional building techniques, stone masonry requires less water and material.
It requires only stone and is more durable than concrete structures. Stonemasonry structures are water-resistant, weather-resistant, and fire-resistant. But, compared to contemporary building techniques, stone masonry is a time-consuming and labor-intensive construction method.
Also, it is not suitable for larger buildings. This is because the thickness of the wall is kept more than necessary since mortar is not used. Hence, it requires more space and leaves less space in the house.
FAQ's
What is the construction cost of a residential building in Bangalore?

The construction cost of a residential building in Bangalore is Rs.1515/sq.ft and may escalate upto Rs.2100/sq.ft depending on the requirements.

What is the construction cost of a duplex house in Bangalore?

The cost of construction of a duplex house in Bangalore of about 1500sq.ft built-up starts at Rs.2400000 and goes upto Rs.3400000 and more based on customer customization.
#Experienced Architects #Design #2D-Design #3D-Design #Construction Company #Housing-Factory #Build-Home #Residential #Interiors #Commercial #Bangalore #BBMP #BDA #BMRDA #Panchayat #STRR #Municipality-Permission #A-Katha #B-Katha #Plan-Approval #Building-License #Hassle-Free #Contractor #Bescom #temporary electric connection #permanent Bescom Electrical connection
Hire the best construction service